In this article, we describe how you can take advantage of Power BI's scheduled data refresh. When monitoring for special events, in the build phase or in many other cases, it is important that the data is refreshed automatically when the source data is updated.
The scheduled refresh in Power BI web can be configured according to your needs.
The configuration options are many and allow the use of a gateway, personal or corporate, and to define the frequency of the scheduled refresh.
This article describes how to enable scheduled refresh for Power BI reports.
Note: After two months of inactivity, the scheduled refresh on the dataset is paused. A dataset is considered inactive when no user has visited any dashboard or report embedded in the dataset. At that point, the owner of the dataset is notified via an email message that the scheduled refresh has been paused. The scheduled refresh for the dataset is then displayed as disabled. To resume the scheduled refresh, simply access any of the dashboards or reports integrated into the dataset.
The scheduled refresh will also be automatically disabled after four consecutive errors.
To allow data and model refresh in Vcad some operations on the report are required, let's see what they are:
1) Remove the Api Key Name on the Vcad_ColorTable queries.

To open the editor: right click on the table after opening the "Transform Data" window in Power BI Desktop and then click on "Advanced Editor". This must be done for each color table you use in your report.

So it becomes

2) Repeat the same operation described in step 1 for the Vcad_zipCsv table.
3) Pass your personal security APIKEY (click here to see where to find it) into the Vcad_zipCsv query as an http parameter. This can be done by adding the string "&x-vcad-auth=" followed by your APIKEY.
You can see an example in the screenshot below.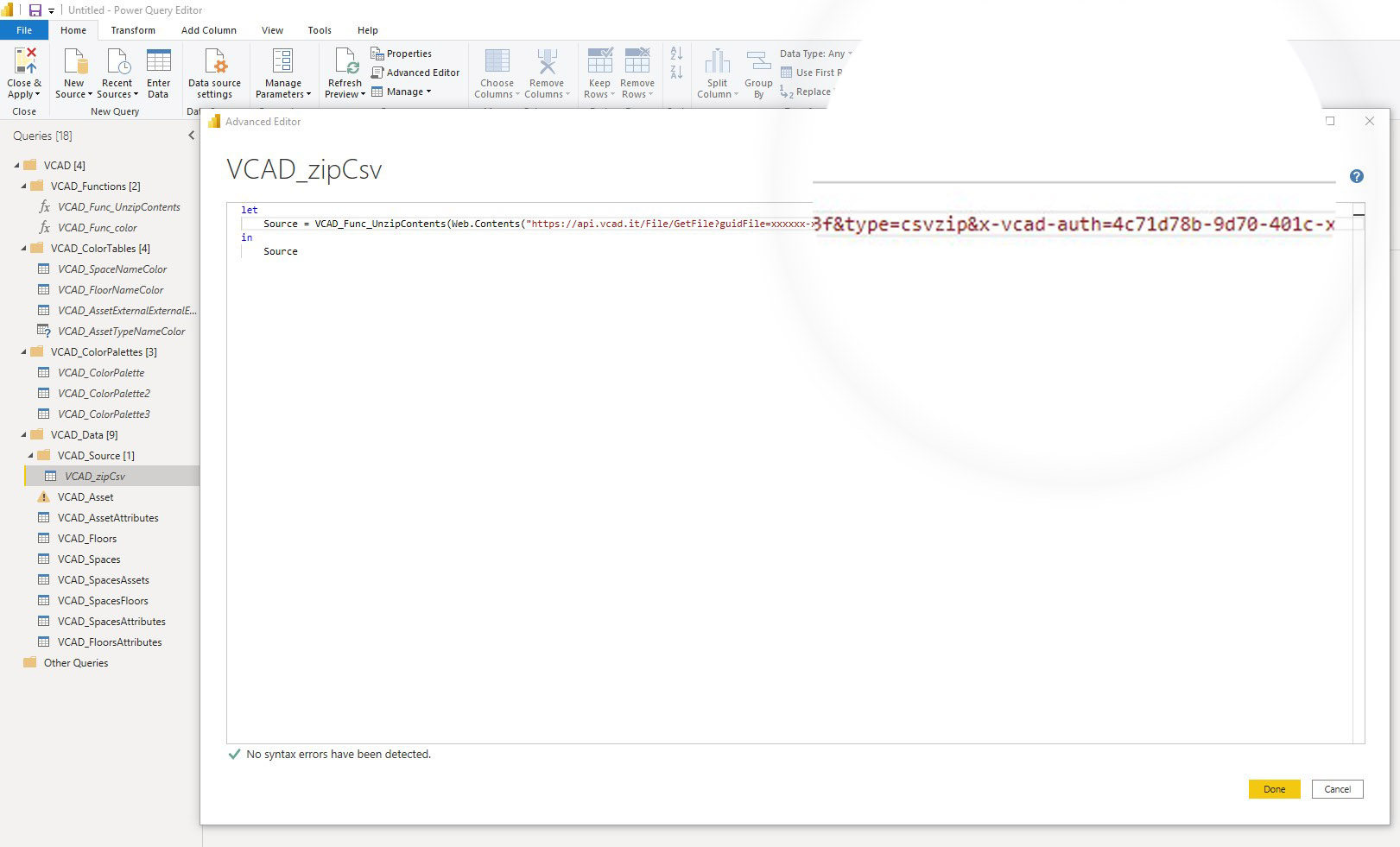 3) Finally in Power BI web configuration, set the data source as anonymous, publish the report again and test the scheduled refresh.
To test that it works correctly, simply refresh the file in the slot it belongs to.
In the standard version of Vcad you only need to reload the file using the update icon

, reload the report and verify that the data is correct.
In Vcad for BIM360®/ACC® it is even simpler, just update the version and then check the data.
Click here to see how to update the file.
Final considerations
The usefulness of the scheduled refresh function is especially indicated for those who need to refresh the BIM file frequently. This saves time and effort because you won't have to refresh the report from Power BI Desktop every time.
Note: based on the type of Power BI capacity in use:
1) Power BI limits datasets on shared capacity to eight daily refreshes.
2) If the dataset resides on a Premium capacity, you can schedule up to 48 refreshes per day in the dataset settings.