POWER BI
Power BI Vcad integration
To use the Vcad custom visual you need to register here.
You can choose the FREE 10DAYS subscription plan to test your IFC models for ten days and decide later whether to subscribe to a paid plan.
All paid plans provide for automatic renewal of the service but it is possible to terminate the subscription at any time.
The subscription plans provide for a maximum of 20 usable SLOTS but if you need more slots contact us here to receive a quote and get access to a customized subscription.
Each subscription plan has a certain number of slots.
Slots are containers where you can upload your IFC files.
Only one IFC file can be uploaded in a slot.
Once you have entered your credentials, from the Vcad custom visual you can upload your files, connect them to the viewer, download and connect them to the data extracted from the Vcad service.
If an IFC file is removed from the slot the reports created with it will stop working but it will be possible to use the slot with another file and create new reports.
For each slot you can create an unlimited number of reports and share them with anyone.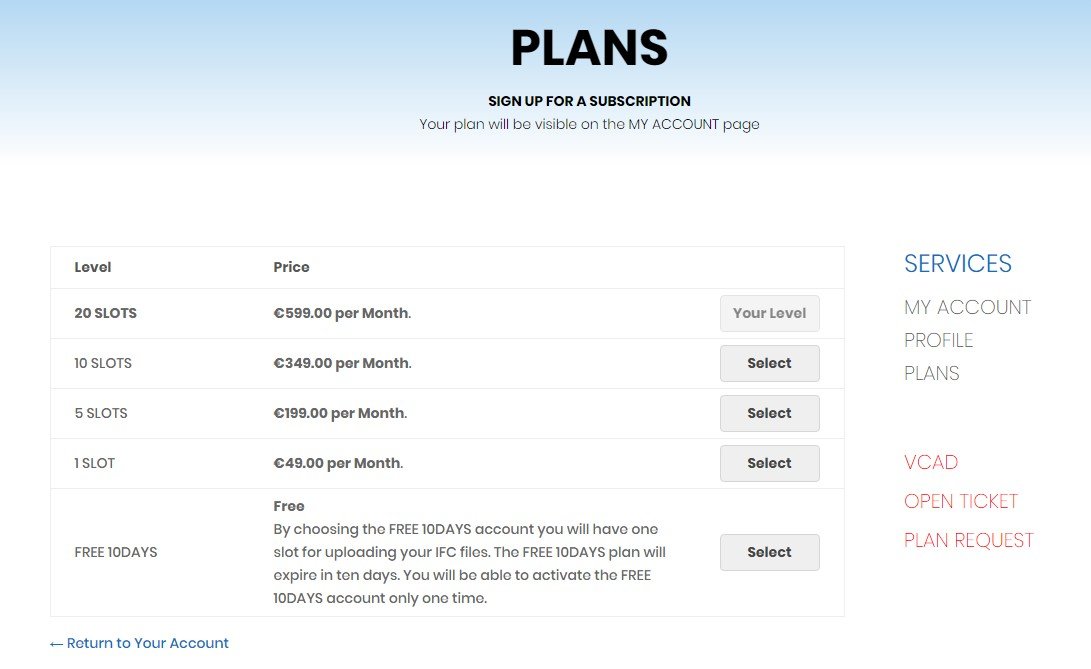 You have a certain number of Power BI templates available that allow you to build your report in seconds.
All you have to do is to register on our site, to log in and to upload your IFC files from the Vcad file manager page.
After few seconds the file will be processed by our service and will be ready to be visualized into the Vcad custom visual embedded on our site.
Click on the button to download the template and you are done. 
USER MANUAL
This manual has the purpose of describing the functionalities of the BIM Services platform.
Vcad custom visual Vcad is in continuous development, subscribe to our newsletter to get a preview of all the news
Get in touch or create an account