The templates that are available to our customers are the starting point for building their own Power BI reports. One of the main features of Vcad is precisely this. Automatically create pre-configured templates containing the model and the data extracted from it. Once the templates have been saved in .pbix format and have been worked on and modified there may be a need to have them render a different model (i.e., point to a different slot) than the present one.
This can happen if you want to duplicate a report and apply a different file to it, or a new version or in general to replace the BIM model with another one. Let's see how to do this.
Change the FILE ID
The Vcad custom visual uses a FILE ID (or Slot ID) that identifies the model it has to connect to. The first thing to do is to replace this FILE ID in the "FILE ID" field among the options of the Vcad custom visual.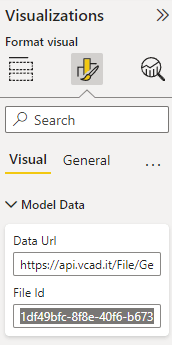 If you are using the standalone file manager, the FILE ID can be retrieved by clicking the

(Info) icon in the file manager for the file you want to use.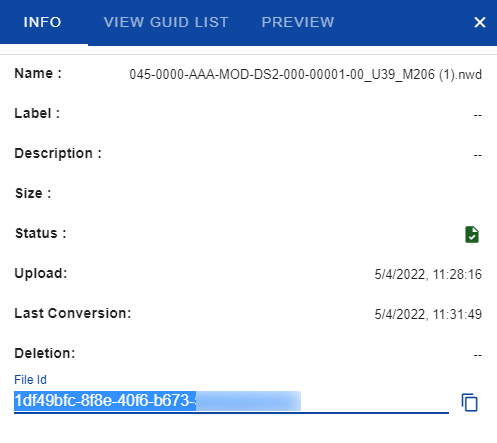 For the Autodesk Construction Cloud version of Vcad, the FILE ID can be retrieved from the "Vcad ID" field in the Additional Info section displayed in the right column of the interface after clicking on the file.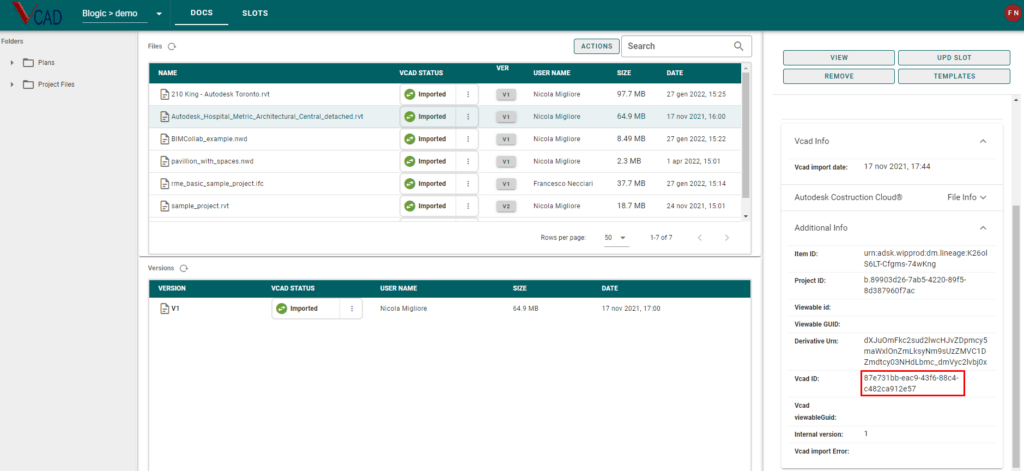 Now the Vcad visual will point and show the new model.
Change the VCAD_zipCsv Api parameter
At this point we have to make sure that the Vcad dataset is updated with the data of the new model.
To do this we access the "Transform Data" window in Power BI desktop. Right click the table Vcad_zipCsv  and click the option "Advanced Editor".
Replace the old FILE ID with the new one in the "guidFile" parameter, apply the changes and that's it.
We have replaced the old BIM file with the new one. The report containing the new file will then show the new BIM file, which will then be correctly linked to its data.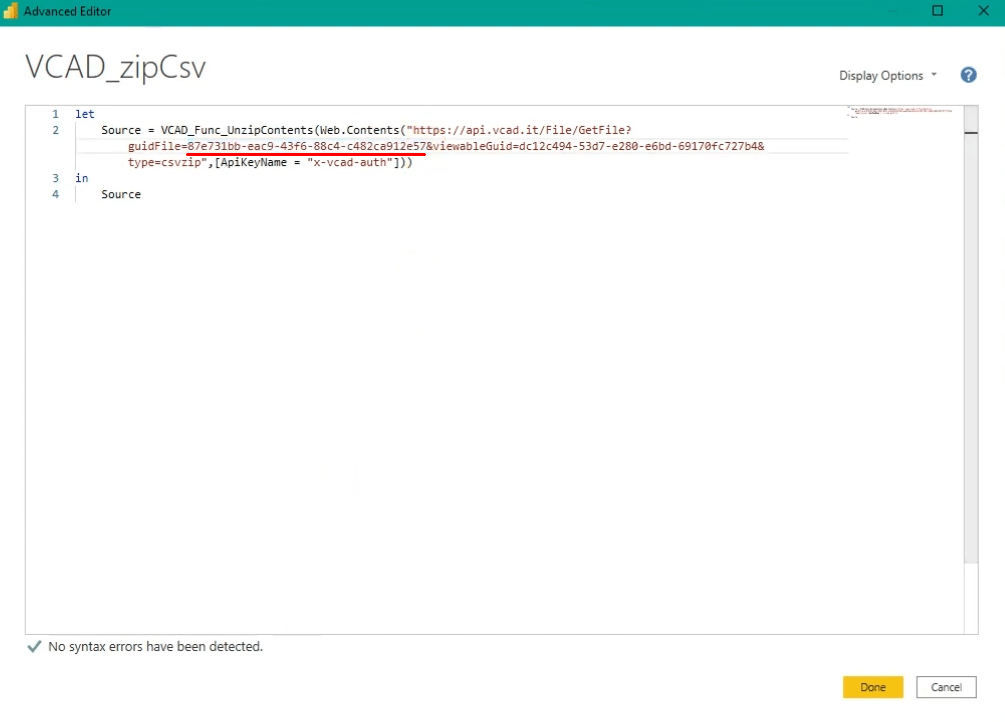 Things to know
The FILE ID update must be done in all pages that contain the Vcad custom visual.
It is not possible to update the report with a file in a different format than the present one.
If the report contains links to external data sources connected to the model, these must also be updated.
If the file to be updated is in Revit format, the view GUID must also be updated.
The procedure for updating the file is the same for those who use the Open viewer.
In this case the Vcad options field to update is called IFC FILE ID and the dataset table ZIPCSV.
Watch the video below for more details.