The Vcad and Autodesk Forge® selection toolbars play an essential role in the user experience of our custom visual. They are highly configurable and make it easy to activate functions aimed at better consultation of the model or identification of elements.
However, there are cases in which it is better that the visual and functional impact of the icons is less relevant. In the video at the end of the article, we will analyse one of these cases and see how we can resize the toolbars or even hide them.
RESIZE THE TOOLBARS
Just select the custom visual Vcad and access the "Viewer Options" in the "Format" tab of Microsoft Power BI®. Here you can set the toolbar scale in the range 0-1.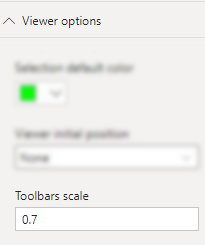 As you can see in the following example, reducing the size of the toolbar brings benefits in terms of visibility, especially if the size of the visual in the report is not large enough.

HIDE THE TOOLBARS
If you have no need to use Vcad's toolbar options, you can simply hide them to have all the visual space available to the model. To do this, simply disable them from the custom visual options.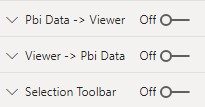 In the single toolbar options, you can hide icons individually.
For example, if you only want to hide the "Zoom on Select" icon, you can do so.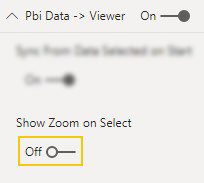 You can do the same for the Autodesk Forge® toolbar.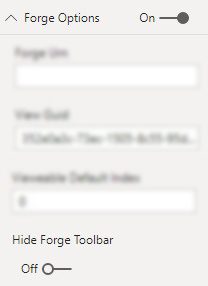 CONCLUSIONS
The following video shows what we have explained so far.
Please note: settings on the Autodesk Forge® toolbar are not displayed immediately, but you must switch between tabs in Power BI® to see them applied. To make the settings permanent, simply save the report.