Vcad can manage two viewers for viewing files in Power BI.
Depending on the format of the uploaded file, you can use the Open viewer or the Autodesk Forge viewer. The Open viewer can only handle files in .ifc format while the Forge viewer of Autodesk can handle .ifc, .rvt, .nwd, .nwc, .stl, .obj and .dwg formats.
Let's see how to enable Autodesk's Forge viewer in Vcad.
Step 1: Create a Forge Account
Go to the Forge portal.
Click the SIGN IN button. The Sign in page displays.
If You Already Have an Autodesk Account…
Specify your email address and click NEXT.
2. In the next screen, specify your password and click SIGN IN.
If You Don't Have an Autodesk Account…
Click the CREATE ACCOUNT link. The Create account page displays.
Fill out the form and click the CREATE ACCOUNT button. The verification required screen displays.
Check your email, and click the verification link on the email sent to you by Autodesk. The Account verified page is displayed.
Click DONE. You are redirected to a Welcome Page.
Specify your details and click SUBMIT. The Forge Account Details page displays.
Step 2: Register an App
From the Profile menu on the top right of the page, click My Apps.
Click the CREATE APP button on the top-right in the My Apps page. The Create App page displays.
Select the APIs the App will access.
Enter the app name and description.
Enter a callback URL. You can use this address https://bimapi.v-cad.it in the callback URL field,
it is not essential for the functioning of Vcad but it is a mandatory field.
Click CREATE APP.
Step 3: Note Down Your Client ID and Secret
Once you register an app, you will see a Client ID and Client Secret in your newly created app page.
Step 4: Copy Your Client ID and Secret in Vcad
Click the icon next to the Upload button on the Vcad file manager page

Copy the customer ID and Secret in the fields provided and select US or EMEA on the Region field depending on whether you want your files to be hosted on USA or EUROPE Autodesk servers.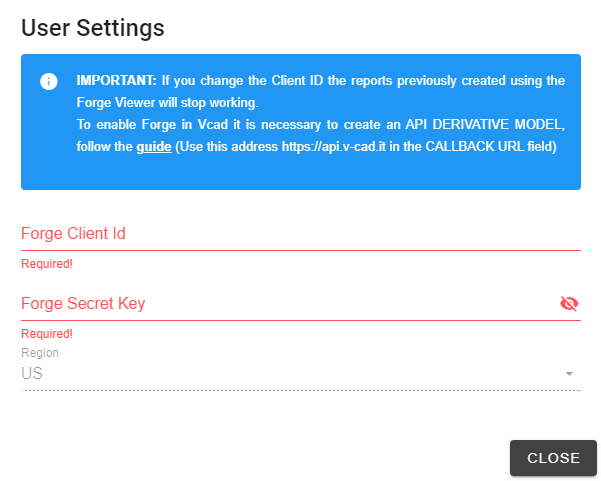 Click the SAVE button. Your account is now enabled to use the Autodesk Forge viewer.
Watch the video guide below.
PLEASE NOTE: The Autodesk Forge trial lasts for either 90 days or until your 100 trial Cloud Credits are consumed. After the trial period of 90 days or once you have used all of your Cloud Credits, attempting to use any Forge API which consumes Cloud Credits such as Model Derivatives, Design Automation, and ReCap, will return an error for any API calls you make.