Thanks to Vcad it is possible to create Power BI reports suitable for every need.
Once the conversion process is complete, each template contains all the data present in the loaded Ifc files. This data can be used by the user as he wishes, in particular to customize the preconfigured templates that Vcad makes available.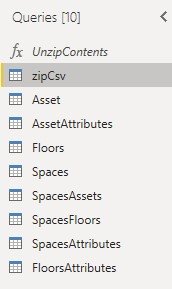 The data extracted from Vcad is found in the zipCsv table of each template but only a part of it is used for creating the report.
However, this does not prevent the user from deciding to extract other data and use it in their own report. In this article we will see how the quantities of the elements can be added starting from the Asset Analysis template.
The report used in this demonstration contains an .ifc file and Vcad uses the Open viewer.
You will be able to do the same operations using the Forge viewer when converting an .ifc file while if you convert an .rvt file, the quantities are found directly among the attributes of the model elements.
Procedure
Open the Transform data window from Power BI desktop.
Duplicate the zipCsv table.
Click on Binary near the qntElement.csv file name.
Transform the data of the quantities and apply the changes.
Add the data of the quantities in the report.
04. Transform the data
Once we have extracted the quantities we have process the data to make it readable and usable as, in this pecific case, Power BI transforms the values into integers. To do this, we change the type of the QntValues ​​column to text, replace the "point" with a "comma" (the decimal separator in the metric system) and change the type back to decimal. After saving the changes we can use the data in Power BI.
Conclusion
This article can be useful for those who have different needs from those proposed. As previously mentioned, Vcad extracts and saves in the templates all the data present in the .ifc (and .rvt) files, this makes it easy to add new details in a just few steps.
Do you want to automatically extract and display the quantities of the elements in your templates?
Send us your report template and we will upload it to your account.
Watch the video below.