As of today, Vcad models with the Forge viewer contain a new markers page. The page highlights one possible use of the markers feature thanks to the use of the Autodesk Data Visualization extension.
Markers can be used for multiple purposes, such as in IoT, to highlight certain data, to interact with very small or hidden objects and many more. To make sure that the template would work with each model, we used markers for each asset. The markers are automatically placed in the geometric center of each asset and are colored according to the color of the type.
The markers page is present in all Forge viewer templates, for each the markers are associated with different classifications:
Revit (.rvt): Asset Family with filter by category
Navisworks (.nwd, .nwc): Asset Type with filter by source file
Autocad (.dwg): Asset Type with filter by layer
IFC: Asset Type with filter by level
Things to know
As we mentioned, on the new template page, markers are associated with model objects. As with asset selection, the number of assets is also limited to 90000 units by default.
This is to avoid slowness problems if models with a large number of elements were used.
Click here to learn more.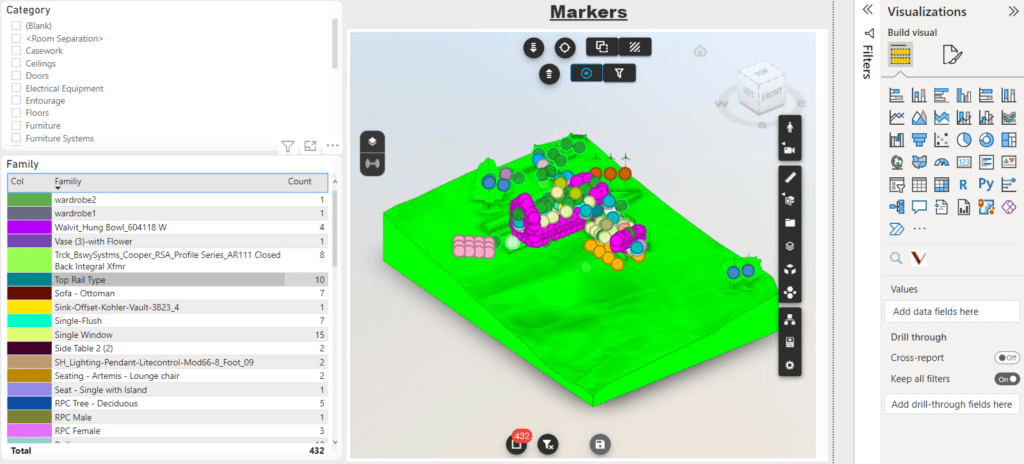 We created the markers page to showcase the use of markers and to give users access to an example set up for displaying markers. Click to learn more about markers configuration and markers bindings.