Often, there is a need to compare two or more versions of the same BIM model, for example, to track changes or verify which assets have been modified. With Vcad, all of this is made simpler and faster.
Comparison of data between two models
To compare two versions of the same BIM model we can start by downloading a template and, with a simple copy and paste, duplicate all the necessary queries, usually VCAD_Asset and VCAD_Properties. It will be essential to also update the references for the SlotIds in our two versions.

After completing this process, you will have the opportunity to do simple transformations of your data to spot the differences between the two datasets. In our example, comparing VCAD_Asset_V1 and VCAD_Asset_V3 will give you a variety of information that you can manage according to your preferences. It will be easy to determine which assets have been added or which ones have been deleted.
Similarly, the properties of the two versions can be compared.
Thanks to these simple steps, a world of possibilities will open up for our reports, such as a visualization by theme that highlights added, removed, or changed properties.

Report creation
Now that we have all the data we can start building our page. As explained in this "how to add more than one model in the same report" guide we are going to import the second visual and connect each instance of the Vcad viewer with the corresponding datasets.
In our example, we can see how different filters and visuals have been used:
Four cards have been implemented, each representing the exact number of properties and assets altered: count of properties changed, count of new assets, count of altered assets, count of deleted assets.
A visual that can filter the assets by their changed status, e.g., deleted, new, changed and unchanged.
A bar chart that shows us the proportions of the changes.
A treemap displaying which properties have been modified the most.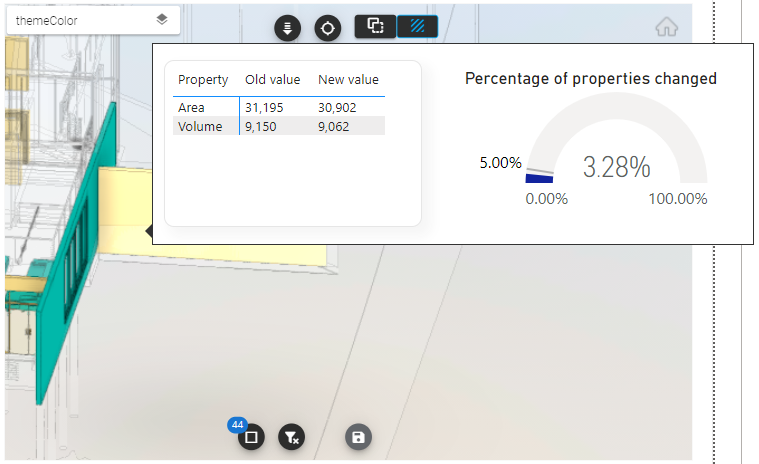 We can also use the Vcad viewer's capability to implement tooltips, allowing us to see in detail the percentage of changed properties for an item and the actual values before and after the adjustments.
Conclusions
Reports comparing different versions have nontrivial importance in scenarios where you need to monitor the progress of work or the change in file data and geometries over time. In addition, In fact, Vcad allows you to easily change the references to data and geometries in the model.
This makes creating multiple such reports across versions a breeze, and not least, a very fast process.
In the following days, we will publish a detailed video that will show all the transformations made in the report.
Notes
Importing more than one version of the same BIM model will occupy more than one slot if you are using the Standalone version of Vcad. Instead, it occupies only one slot in Vcad for ACC.
It will be necessary to insert the view GUID only for Revit files.