Vcad offers functionality for interaction between model and data and vice versa, which is constantly evolving and can be adapted to the needs of users. The Sync viewer to data toolbar is an example of this.

Functionality


Enable sync from viewer to data: when activated hides the Sync viewer to data toolbar icons.


Select: if checked, selecting one or more items in the viewer will update the report filters, filtering out the other visuals.


None button: disable the Select function.
Toolbar options
By selecting the custom visual Vcad in Power BI you can access the Sync viewer to data toolbar options.
Let's see what they are for.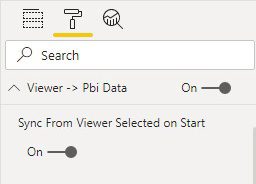 Sync From Viewer Selected on Start: configure the default behavior, at the start of the report, of the propagation of the selection filter from the Vcad viewer to the report data. Enabling it allows the synchronisation function from the viewer to Vcad to be used even if the toolbar is completely hidden.